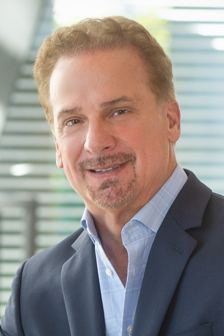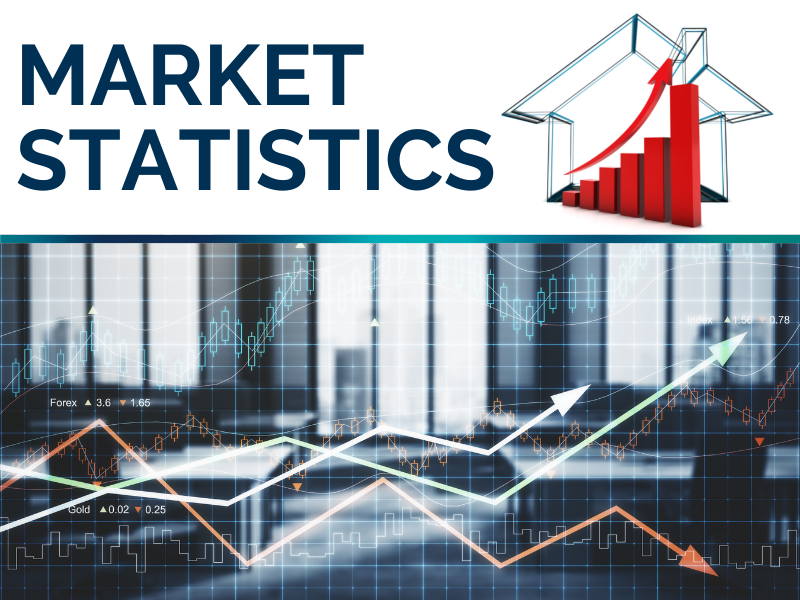 Significant Buyer Demand Continues into Fall for the Sarasota-Manatee Housing Market
SARASOTA, Fla. (September 22, 2021) – Housing prices continue to rise in the Sarasota and Manatee market with August 2021 marking the 15th consecutive month of year-over-year price increases for single-family homes. According to data from Florida REALTORS® and compiled by the REALTOR® Association of Sarasota and Manatee (RASM), August reports fewer closed sales, while an increase in cash sales coupled with low supply indicates high demand and competition among buyers.
In August 2021, the combined closed sales of all property types in both counties decreased year-over-year by 7.5 percent to a total of 2,125 sales. August tends to be a slower month for home sales in the region, and while sales are down from the pandemic induced 'frenzy' in late 2020, closed sales for August 2021 improved by 8.4 percent when compared to August 2019.
For single-family homes, closed sales decreased year-over-year by 6 percent to 815 sales in Sarasota County and by 2.7 percent to 694 sales in Manatee. Condo sales decreased by 15.6 percent to 341 sales in Sarasota and decreased by 12.1 percent to 275 sales in Manatee.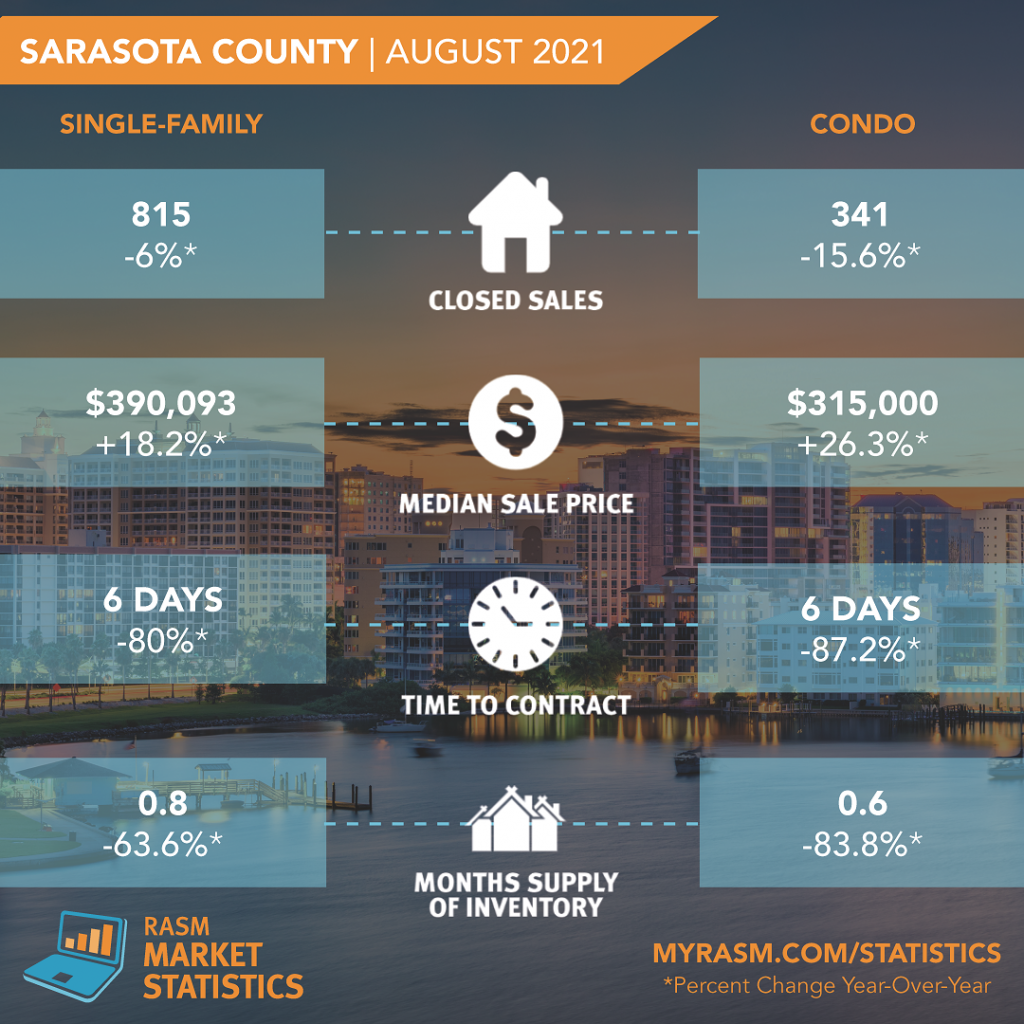 Single-family prices have increased year-over-year each month since June 2020 and continue to rise in August. In Manatee County, the median price for single-family homes was $430,000, a 19.4 percent increase from last year. The single-family home price in Sarasota was $390,093 in August, an increase of 18.2 percent. In the condo market, Sarasota condos reported a 26.3 percent increase to a median price of $315,000, and Manatee reported a 23.3 percent increase to $275,000.
Newly listed homes, combined between the two counties, grew year-over-year by 2.3 percent for single-family homes and decreased by 16.3 percent for condos. As for new pending sales, the combined data in August showed a 16.4 percent decrease for single-family homes and a 24.4 percent decrease for condos.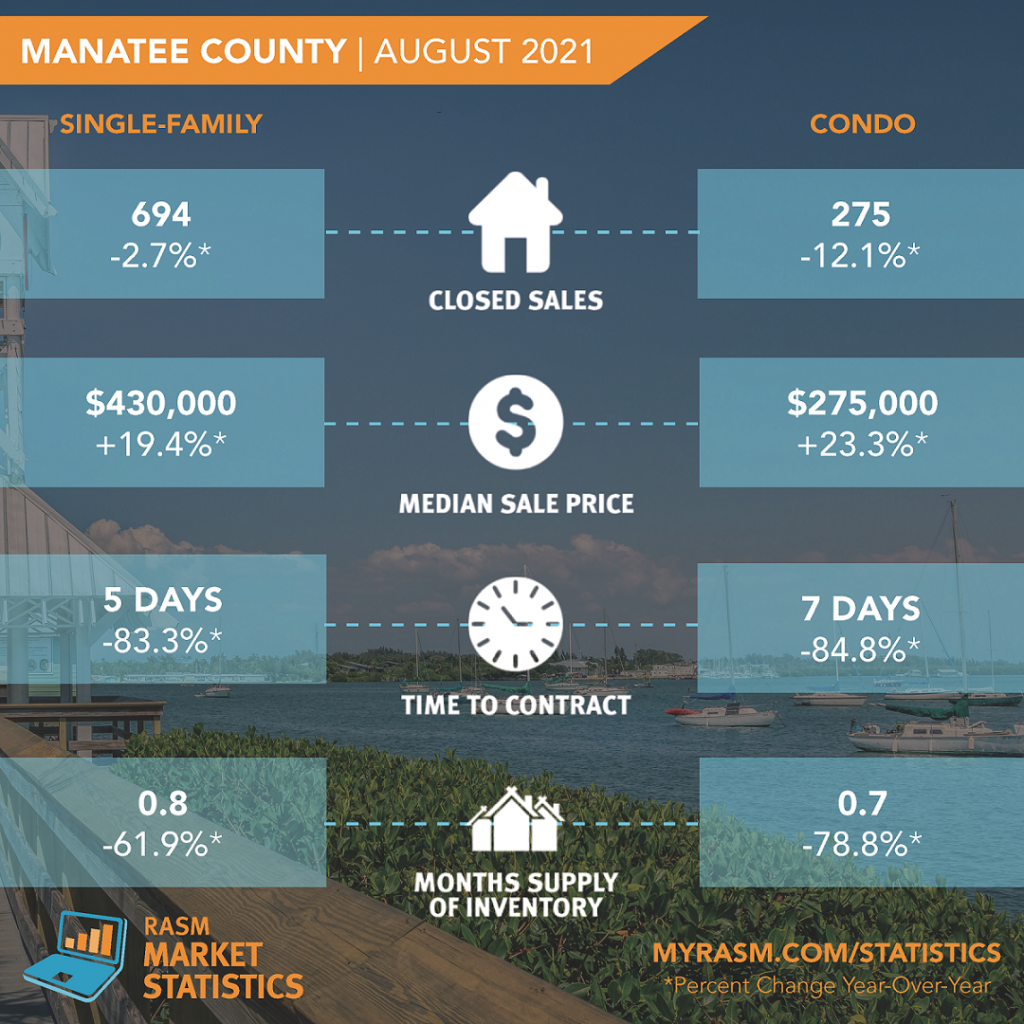 August 2021 reported more cash sales than the same month last year. In the North Port-Sarasota-Bradenton MSA, cash sales increased by 46.4 percent for single-family homes and by 12.7 percent for condos.
The inventory of all property types in the two counties decreased by 61.9 percent to 1,836 active listings at the end of August. The month's supply of inventory for single-family homes is 0.8 months in both counties, a 63.6 percent decrease in Sarasota and a 61.9 percent decrease in Manatee. Condo inventory decreased by 83.8 percent to a 0.6-month supply in Sarasota and dropped by 78.8 percent to 0.7 months in Manatee County.
The median time from listing date to contract date is hovering around one week in the two counties. For single-family homes, combined for both counties, the median time to contract was 5 days in August, an 83.3 percent decrease from the same time last year. For condos in the North Port-Sarasota-Bradenton MSA, the median time to contract decreased by 85.1 percent to 7 days.
Monthly reports are provided by Florida Realtors® with data compiled from Stellar MLS. For comprehensive statistics dating back to 2005, visit www.MyRASM.com/statistics.